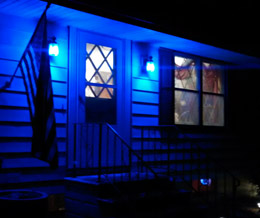 Replace your porch light with a blue light bulb for 1 week (Jan 1st 2015 from 7:00am till Jan 7th till 11:30 pm) to honor all police officers that have fallen in the line of duty. These brave men and women have sacrificed everything for us so let's show our support. For all that are invited please feel free to invite anyone you wish. Let's spread the word! An original event, Blue Light Week created by Daniel Jessup.
A BLUE LIGHT
Place a light in your window, make sure it is blue
Reminding friends, an officer gave a life for you
Give light to their remembrance, the color is sad
To family left by officers who knew them as Dad
It isn't the money, most definitely not the hours
They aren't comic book hero's with unnatural powers
They're simply human beings who place life on the line
Place a blue light in your window, let their memory shine!
By Gene Rooney November 29th, 2007
ABOUT PROJECT BLUE LIGHT:
The color blue is symbolic of "peace". By displaying your blue light(s) you send a message that you support America's Peacekeepers, your light is guiding them to safety, and you hope the year will be peaceful. Shine it for the holiday season or let it shine all year long. Project Blue Light is a nationwide recognition of those Police Officers who have died in the line of duty. It began in 1988 in Phila when Dolly Craig wrote a letter to Concerns of Police Survivors stating that she would be honoring her late son-in-law, Philadelphia Police Officer Danny Gleason, during the holiday season by placing a blue light in her window. In 1999 the Horsham Township Police Department planted a tree in Deep Meadow Park on Horsham Road as a memorial to those officers. The evergreen tree is decorated every holiday season with 1,000 blue lights representing all Law Enforcement Officers. We would like to ask each of you to please consider placing a blue light in your window during the holiday season to show your support for your police officers.